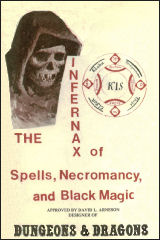 The Interfax of Spells, Necromancy and Black Magic by D.H. Casciano, M. Fisher and G. Mangene.
44pp Digest-size book with card cover.
Published in 1978 by The Dave Casciano Company, Glenside, Pennsylvania.
Supplement of additional rules for Dungeons & Dragons 'approved by Dave Arneson'. Primarily a spell book, but with a few magic items, monsters, character classes (trader, outlaw/brigand, and beastmaster), rules for non-lethal combat, damage tables, a demons and devils list, probability tables and details on how to build a wizard's stronghold. Image and description courtesy of Frank Farris.