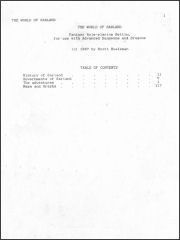 The World of Sarland by Scott Huelsman.
141pp Loose leaf manuscript.
Unpublished Manuscript circa 1987.
Only one copy of this manuscript exists.
A campaign world and 16 separate mini-scenarios; Goblin's Lair, Darium's Doom, The Forgotten City of Nual, Miner's Misery, The Sorcerer's Spell, Sandaria's Revenge, To Save a Princess, Fire and Ice, Gemcore, The Return to Evildeep, Confrontation, Ultaweapon, The Caverns of Griswald, Revelations, Chilm's Challange and Grishnak.